Our ability to transport food, clothing and comfort to those in need across Metro Detroit has been called our "Superpower."
Our commitment to engaging others to join us in creative service may be even more powerful. Got an idea? Looking for
an Idea? Email us at [email protected]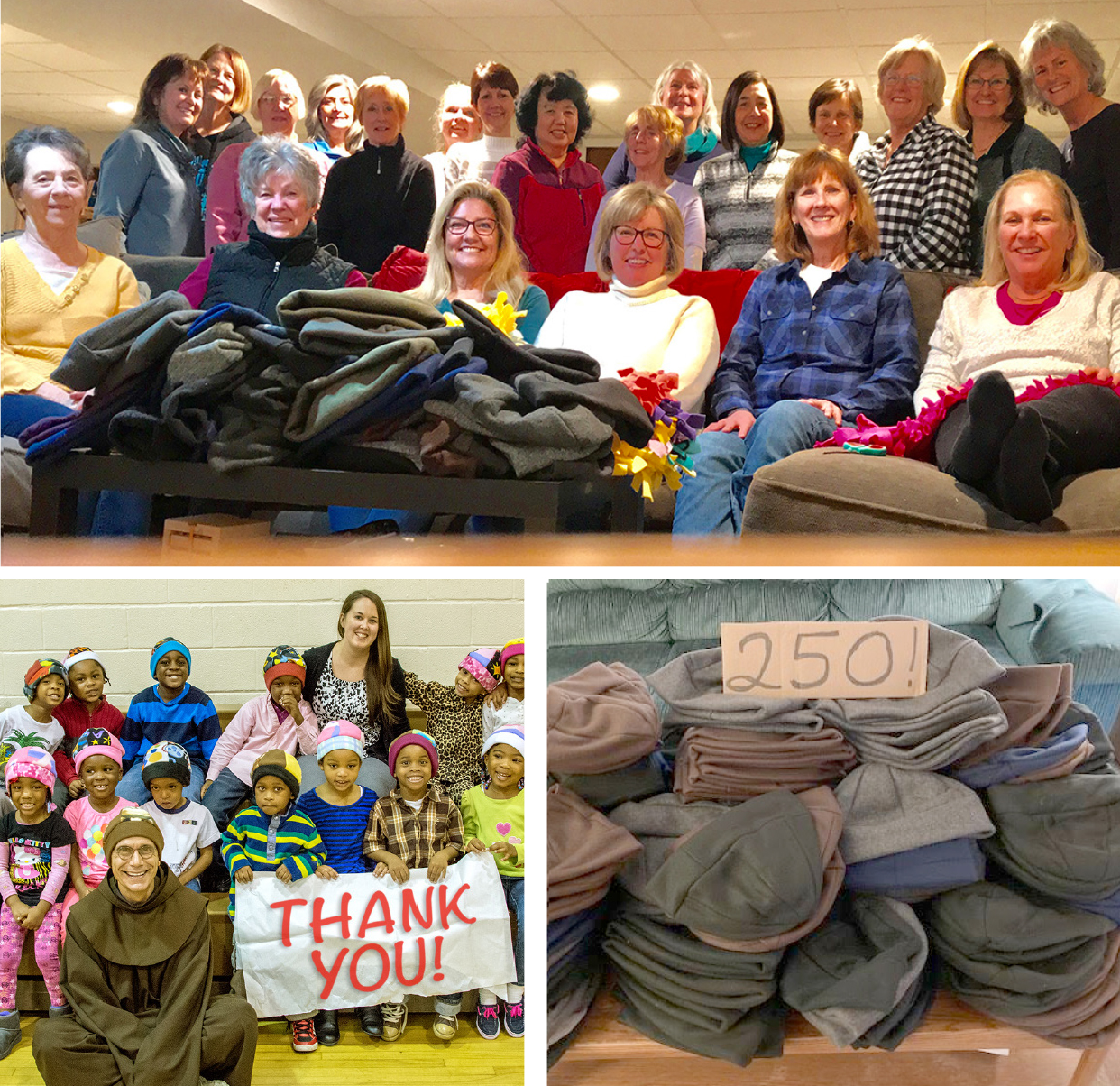 HATPAX
This is MICHIGAN - we often need to pass out warm items from September through May! If you or a group is interested in
sewing fleece hats for distribution to those in need, the pattern is HERE
MATPAX
PLARN is "plastic yarn." It's made by cutting plastic shopping bags into strips, joining loops together and creating a ball of "plarn." This plarn can then be crocheted to serve as sleeping mats for people who find themselves challenged to find shelter, or who lack traditional bedding. Crocheted plarn mats create a barrier between a person's body and the ground, which helps retain body heat. Plastic is less attractive to bugs than textiles, and are easy to clean. These plarn mats are lightweight, and thus are very portable. At the same time, they keep plastic bags out of landfills
How to Make Plarn: (see video below)
What you'll need:
• 500-700 plastic shopping bags (for a person-sized mat)
• 10mm or larger Crochet hook
• Scissors
Instructions:
1. Flatten the plastic bag to best you can and straighten any of the bags creases
2. Cut off the handles and the bottom seam so that you're left with a rectangle. This can then be cut into four strips that become loops when opened up.
3. After you have lots of loops, hook them together with a basic larks head knot. This is done by overlapping two of the loops end-to-end, then pulling the top of one end through the middle intersection of the two loops. Repeat this step.
4. From here you can start to crochet! You'll need approximately 42 chain stitches, and then continue to crochet until you arrive at your desired length.
Some tips: Don't make your chains and knots too tight or they'll break! If you have different sized bags, make the size of the strips consistent with each bag, and cut narrower strips for thicker bags.
FLEECE TIE / NO-SEW BLANKETS
Yes - the folks we serve ask for soft, fleece blankets 365 days per year! Each polyester fleece blanket should be 2 yards
long x the width of the fabric (aprox. 55-60"). Trim the selvage on both sides of a single, 2 yard length of fabric (that's the
part with the printing on it). Cut 1" wide x 4.5" long strips across the two short ends only. Tie a small knot at the base of
each 4.5" strip until you've created a decorative fringe - leaving the long sides of the fabric plain. Questions? Need to
arrange the pick-up or drop off of finished blankets? [email protected]